Practice primarily limited to patents, copyrights, trademarks, and related matters.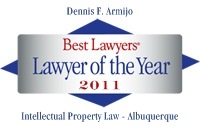 Located in Albuquerque, New Mexico


Dennis F. Armijo, LLC, is a Limited Liability Company specializing in all aspects of intellectual property issues. Intellectual Property primarily encompasses the areas of patents, trademarks, and copyrights. These three areas often overlap, and, as you review our brochure, you may find you need protection in several areas.

Please feel free to contact us at (505) 899-0269, or dennis@armijolawfirm.com. We are confident we can assist you with many of your intellectual property needs. In addition to preparing, filing and prosecuting your patent, copyright, and trademark applications, we can also assist you in license preparation and negotiation, infringement litigation, and trade secret matters. We also offer limited assistance in marketing.

We believe in "servicing" the client and are confident you will not leave our firm dissatisfied.

We hope you will contact us soon and make an appointment to discuss your specific intellectual property needs.


Dennis F. Armijo, Esq.

Experienced in the very specialized field of Intellectual Property for Twenty-four (24) years, and a practicing Attorney for Thirty-five (35) years. Certified to practice in all New Mexico State Courts; the United States District Court; the United States Patent and Trademark Office; the United States Court of Appeals for the Federal Circuit; and the United States Court of Appeals for the Tenth Circuit. Also named "Best Lawyer in America" in the field of Intellectual Property every year from 2007 to the present.

Elaine C. Bryan, PLS

Experience in the legal field for thirty-three (33) years, and a practicing Intellectual Property Paralegal for 19 years. Member of the Paralegal Division of the State Bar of New Mexico since its inception in 1994.

Lawyer Advertisement